Warning: include(): http:// wrapper is disabled in the server configuration by allow_url_include=0 in /home/ganeshji/public_html/temples/naina_devi_temple.html on line 34

Warning: include(http://www.ganesh.us/left.html): failed to open stream: no suitable wrapper could be found in /home/ganeshji/public_html/temples/naina_devi_temple.html on line 34

Warning: include(): Failed opening 'http://www.ganesh.us/left.html' for inclusion (include_path='.:/usr/lib/php:/usr/local/lib/php') in /home/ganeshji/public_html/temples/naina_devi_temple.html on line 34


Warning: include(): http:// wrapper is disabled in the server configuration by allow_url_include=0 in /home/ganeshji/public_html/temples/naina_devi_temple.html on line 37

Warning: include(http://www.ganesh.us/banner.html): failed to open stream: no suitable wrapper could be found in /home/ganeshji/public_html/temples/naina_devi_temple.html on line 37

Warning: include(): Failed opening 'http://www.ganesh.us/banner.html' for inclusion (include_path='.:/usr/lib/php:/usr/local/lib/php') in /home/ganeshji/public_html/temples/naina_devi_temple.html on line 37


Warning: include(): http:// wrapper is disabled in the server configuration by allow_url_include=0 in /home/ganeshji/public_html/temples/naina_devi_temple.html on line 38

Warning: include(http://www.ganesh.us/adg.html): failed to open stream: no suitable wrapper could be found in /home/ganeshji/public_html/temples/naina_devi_temple.html on line 38

Warning: include(): Failed opening 'http://www.ganesh.us/adg.html' for inclusion (include_path='.:/usr/lib/php:/usr/local/lib/php') in /home/ganeshji/public_html/temples/naina_devi_temple.html on line 38

Naina Devi Temple, Himachal Pradesh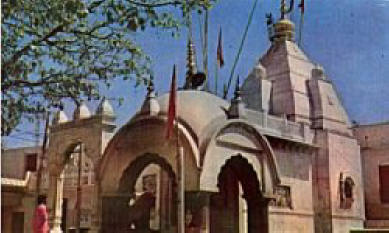 Naina Devi Temple is one of the fifty-one Shakti Peeths in India. Situated 60 km from Bilaspur district in Himachal Pradesh, Naina Devi Temple is one of the highly venerated Shakti Temples in India. According to Hindu mythology, sati, consort of Lord Shiva, killed herself by jumping in the sacrificial fire when her father Daksha Prajapati insulted her husband. This enraged Shiva who started roaming the entire universe with the body of Sati in his arms. Lord Vishnu dismembered the dead body of Sati to calm down the anger of Shiva. Various body parts of Sati fell at fifty-one different places in India that later became sacred as Shakti Peeths.
Thousands of pilgrims gather here every year on Navratri and Savana(Monsoon)to worship Goddess Parvati. The temple of Naina Devi is situated about 7 miles from Anandpore Sahib on Bhakra Nangal rail –line. The temple is situated on Shivalik Mountain and devotees have to cover a distance of above 2 km on foot. It takes for the normal Devotee an hour to reach the temple from the foothill. And now there is a roopway to reach here and roopway to temple distance is about 20 minutes . Ist Devi of NeelMandir Trust has its own School , collage , Hospital and even langar. and Gobind sagar river, Bhakra Dam and village toba are are nice visting place
According to legends, Sati or Parvati was the daughter of Prajapati Daksha and later, became the consort of Lord Shiva. Once her father insulted Lord Shiva and unable to accept this, she killed herself. When Lord Shiva heard of his wife's death his rage knew no bounds and holding Sati's body he began stalking the three worlds. The other gods trembled before his wrath and appealed to Lord Vishnu for help. Lord Vishnu let fly a volley of arrows which struck Sati's body and severed it to pieces. At the places where the pieces fell, the fifty-one sacred 'shaktipeeths' came into being. It is believed that Sati's eyes fell at the place where this temple is situated. Therefore, this temple is called Naina Devi.
The word Naina is synonymous with Sati's eyes. Since then, devotees started visiting this temple. Once the devotee reaches the hill top, prasad can be bought from any of the various shops or it can also one's own offerings from home. After crossing the main gate, there is a big Peepal tree on the left side. On the right side of the temple there are idols of Lord Hanuman Ji and Ganesh Ji. After reaching the main entrance of the temple, there are two statues of lions.

Inside the temple, devotees have darshan of three deities. On the extreme left is Mata Kali Devi, the centre representing two Netras or eyes is Maa Naina Devi and to right side is idol of Lord Ganesh.