Mookambika Devi Temple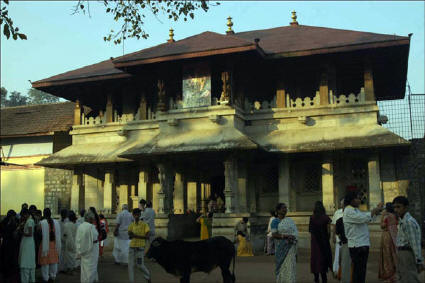 Saraswathy temple, also known as the Mookambika Temple is situated in North Paruvur a small town in Kerala. It is one of the rare temples dedicated to Goddess Saraswathy (the Goddess for arts and learning) in Kerala.
According to legends, a local Thampuran (ruler) in Paravur was a great devotee of Goddess Mookambika. He used to visit the Kollur temple in Mangalore every year to pay homage to the goddess. But when he became too old, his health worsened and he could no longer undertake the long journey to Kollur. The goddess appeared to the sad devotee in a dream and ordered him to build her idol near his palace so that he can have daily darshan of the goddess. Thampuran followed her instructions and built a temple at Paravur and installed the Goddess.
The 'srikovil' stands in the middle of a sacred lotus pool. At the corner of the Nalambalam (the inner wall) a Ganapati is enshrined and surrounding the nalambalam, there are idols of Subramanian, Mahavishnu, Yakshi, Hanuman and Veerabhadran. Besides this, a Ganapathi Temple is situated near the large sacred pool. Traditionally the main poojas here are performed by the Namboothiris ofthe Puliyannur Mana in Thrippunithura. The main Vazhipadu or offerings in the temple are 'Navum Narayavum' - offered for children to speak clearly and to succeed in their exams, 'Thattam nivedyam', 'Srividya manthra Pushpanjali', 'Kalabham' etc.
The famous Navaratri festival is celebrated here with great fervor. The ten-day annual festival in kanni (October) starts from the Uttrattati asterism. Music festival and 'Vidyarambham' ceremony are the main features of this festival. Thousands of people participate in the Navarathri music festival. On Durgashtami, books are arranged before the image of Goddess Saraswathy and on Vijayadasami morning, 'Ezhuthinirithu' or 'Vidyarambham' ceremony takes place at a special mandapam which begins from 4 am and lasts till 11a.m. Thousands of little children are initiated into the world of letters by making them write the word 'Harisree' on rice, their tongues or sand with a golden ring. The temple is now under the administration of the Travancore Devaswom Board.