Mansa Mata Temple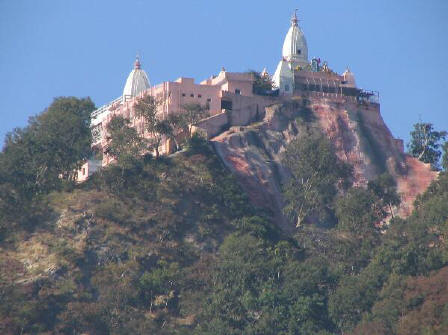 Mata Mansa Devi Temple at Panchkula, Haridwar is a symbol of Himalayan culture and faith. The shrine located on the foot hills of Shivalik is an epitome of age old tradition of 'Shakti' worship in northern India. Himalaya being the abode of Shiva and his consort'shakti' became centre of shakti worship. In the vicinity of Panchkula there are numerous Shakti worshipping centers known by their names such as Chandi, Kalika, Mansa, Bhima etc. Hence, mythological speaking, Chandigarh-Panchkula region undoubtedly continued to be living legends of shaktism where its practices are in vogue. However, the present temple which stands a witness to the exciting past of the Shivalik region is about two hundred years old. The archeological treasures unearthed from Chandigarh-Panchkula region throw eloquent light on the history and culture of the area from the prehistoric to the recent times. Although owing to the onslaught of times and climes many tangible realities of the cultural manifestations of the region have been lost in the oblivion, yet there are certain things which never die out. One such reality is the Mansa Devi Shrine and the tradition of shaktism practised in this part of the country, where the past has been rejuvenated for sustaining one of the living traditions of shaktism in India
Two temples are located in the complex of Mansa Devi. The main temple is dedicated to Mansa who is worshipped in the sanctum sanctorum both in the form of 'pindi' as well as in her anthropomorphic form executed on a marble. In the sanctum sanctorum she is worshipped with Devi Saraswati and Lakshmi in the form of Pindi (Stone pebbles). Originally the pindis were only worshipped by the devotees. However, in modern times a marble bust of the deity was got sculpted for giving an attractive human look (form) to the deity. She is beautifully decorated with crown and other ornaments.
Interestingly the architecture of the main temple (Mansa Devi) is not in consonance with the Shivalik region where usually a typical ' Nagara' or curvilinear spira temples were erected. This is in sharp contrast to the environment of the region as the main temple manifests a typical mogul architecture represented by domes and minarets.
Architecturally speaking the temple has been built in Panchayatana pattern in which at four cardinal corners stand four shrines with the main shrine (fifth shrine) being located the centre.
All the five temples show four minarets at four corners with a cupola on its top. The domes are onion shaped and stand on an elongated circulator drum. The facade of the temple shows miniature vaulted alcoves.
In sharp contrast to the Mansa Devi temple, Patiala temple has a typical ' nagara' curvelinear spire with miniature shrines decorated on its body from bottom to top of the spire. This architectural a style definitely goes in consonance with the shivalik background. The colossal temple is built in pancharatha style with four projections or transected parts on its four sides bearing semi pyramidal conical spires on the tops.
These are called 'shikkars' or cronical shapes on the main domes.
In the sanctorum the Devi is worshipped in its anthropomorphic form sculpted on marble. The bust is enshrined in a silver plated small vaulted shrine showing a beautiful decoration of silver embossing works throughout the body of the miniature vaulted shrine. Here also the pindi (stone) is worshipped along with the marble bust.
The architecture of the main temple
has mughal features but this temple has a covered 'Parikarma', which is a salient features of Hindu art & architecture. Patiala temple on the other hand has Hindu features in its architecture, but it has an open Parikarma, which is in marked departure from the traditional Hindu architecture.