Warning: include(): http:// wrapper is disabled in the server configuration by allow_url_include=0 in /home/ganeshji/public_html/temples/karni_mata_temple.html on line 34

Warning: include(http://www.ganesh.us/left.html): failed to open stream: no suitable wrapper could be found in /home/ganeshji/public_html/temples/karni_mata_temple.html on line 34

Warning: include(): Failed opening 'http://www.ganesh.us/left.html' for inclusion (include_path='.:/usr/lib/php:/usr/local/lib/php') in /home/ganeshji/public_html/temples/karni_mata_temple.html on line 34


Warning: include(): http:// wrapper is disabled in the server configuration by allow_url_include=0 in /home/ganeshji/public_html/temples/karni_mata_temple.html on line 37

Warning: include(http://www.ganesh.us/banner.html): failed to open stream: no suitable wrapper could be found in /home/ganeshji/public_html/temples/karni_mata_temple.html on line 37

Warning: include(): Failed opening 'http://www.ganesh.us/banner.html' for inclusion (include_path='.:/usr/lib/php:/usr/local/lib/php') in /home/ganeshji/public_html/temples/karni_mata_temple.html on line 37


Warning: include(): http:// wrapper is disabled in the server configuration by allow_url_include=0 in /home/ganeshji/public_html/temples/karni_mata_temple.html on line 38

Warning: include(http://www.ganesh.us/adg.html): failed to open stream: no suitable wrapper could be found in /home/ganeshji/public_html/temples/karni_mata_temple.html on line 38

Warning: include(): Failed opening 'http://www.ganesh.us/adg.html' for inclusion (include_path='.:/usr/lib/php:/usr/local/lib/php') in /home/ganeshji/public_html/temples/karni_mata_temple.html on line 38

Karni Mata Temple, Rajasthan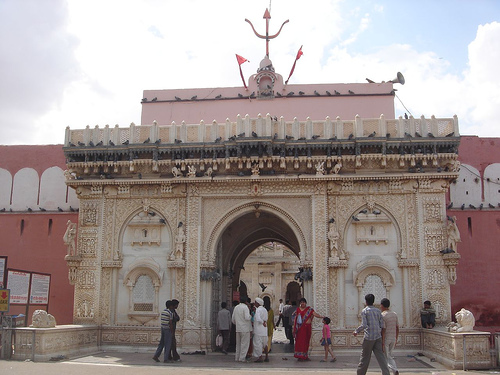 Karni Mata Temple situated at, 30 miles south of Bikaner in Deshnoke (Rajasthan), is one of the strangest holy spots in India. We left Bikaner and were on route to Jodhpur when Bela asked us if we wanted to stop at the "Rat Temple" which was on our way. We had read about the temple in our guide books and the thought of rats running around made us a little squeamish. However, we agreed to stop and found the rats quite small and harmless.The Karni Mata Temple was built by Maharaja Ganga Singh in the early 20th century in the late Mughal style. The entrance, pictured here, is lavishly decorated with beautifully sculptured marble panelling full of intricate patterns, and delicately worked doorways, colonnades, pavilions and balconies.
Karni Mata and Rats
The resident diety is Karni Mata, a mystic who lived in the 15th century and who is considered an incarnation of Durga. She was the daughter of a 16th century Charan who married at 27. After her marriage dissolved, she became a sanyasinand devoted her life to the service of the poor. She was patronized by the Rathore clan of Bikaner and predicted great glory for Bika when he set out to establish a kingdom for himself. The Sanctum sanctorum of the temple depicts Karni Mata as Durga after slaying the buffalo-demon Mahishasura. Her inverted trident is impaled in the demon's head
Not only the mother goddess but well fed rats (called kabas) reside here and receive homage. The high priests have gone to great length to protect the rats whose bodies are believed to house the souls of Karni Mata's departed devotees.
How the Rats Became Holy
The story goes that Karni Mata once tried to restore the dead child of a storyteller back to life but failed because Yama, the god of death, had already accepted his soul and re-incarnated him in human form. Karni Mata, famed for her legendary temper, was so inflamed by her failure that she announced that no one from her tribe would fall into Yama's hands again. Instead, when they died, all of them would temporarily inhabit the body of a rat before being reborn into the tribe. Therefore, the rats are considered to be incarnations of storytellers and are much revered.
The image below shows the special holes around the courtyard that facilitate the rats' movements throughout the temple. It is said that if you spot a white rat, you will have good luck.