Govind Devji Temple, Imphal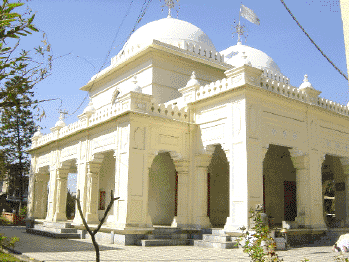 This is the golden temple of Imphal, which is an important Vaishnavait centre. This temple is dedicated is Lord Krishna also popularly called 'Govinda'.
Shri Govindaji temple is the house of four deities, who are actually common forms of the one and only- Lord Vishnu, Preserver of the Hindu trinity. Inside this temple a shrine dedicated to Lord Vishnu is placed, with those of Balaram and Krishna on one side, and of Lord Jagannath on the other side. Prayers and dances on the Krishna theme are held here regularly.
Structurally, this temple consists of two golden ceremonial domes and a huge raised hall. It is situated in the heart of the town adjoining an old palace, and is highly revered by the people of Manipur.
Langthaband: Langthabnand is an historic palace situated on the Indo-Burma road, in the hilly terrenes of Imphal. This ancient palace is nestled among formally planted pine and jack fruit trees and also houses a number of house and temples. Over looking the University of Imphal, this place is located at a distance of 8 km., from it.