Warning: include(): http:// wrapper is disabled in the server configuration by allow_url_include=0 in /home/ganeshji/public_html/temples/ganesh_tok_temple.html on line 34

Warning: include(http://www.ganesh.us/left.html): failed to open stream: no suitable wrapper could be found in /home/ganeshji/public_html/temples/ganesh_tok_temple.html on line 34

Warning: include(): Failed opening 'http://www.ganesh.us/left.html' for inclusion (include_path='.:/usr/lib/php:/usr/local/lib/php') in /home/ganeshji/public_html/temples/ganesh_tok_temple.html on line 34


Warning: include(): http:// wrapper is disabled in the server configuration by allow_url_include=0 in /home/ganeshji/public_html/temples/ganesh_tok_temple.html on line 37

Warning: include(http://www.ganesh.us/banner.html): failed to open stream: no suitable wrapper could be found in /home/ganeshji/public_html/temples/ganesh_tok_temple.html on line 37

Warning: include(): Failed opening 'http://www.ganesh.us/banner.html' for inclusion (include_path='.:/usr/lib/php:/usr/local/lib/php') in /home/ganeshji/public_html/temples/ganesh_tok_temple.html on line 37


Warning: include(): http:// wrapper is disabled in the server configuration by allow_url_include=0 in /home/ganeshji/public_html/temples/ganesh_tok_temple.html on line 38

Warning: include(http://www.ganesh.us/adg.html): failed to open stream: no suitable wrapper could be found in /home/ganeshji/public_html/temples/ganesh_tok_temple.html on line 38

Warning: include(): Failed opening 'http://www.ganesh.us/adg.html' for inclusion (include_path='.:/usr/lib/php:/usr/local/lib/php') in /home/ganeshji/public_html/temples/ganesh_tok_temple.html on line 38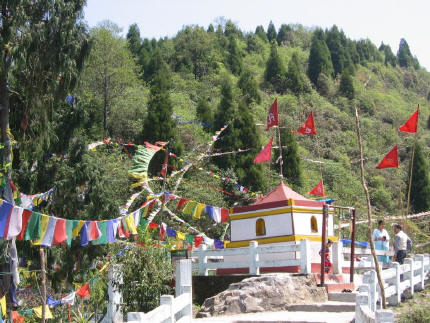 It is a very small temple dedicated to Lord Ganesh, a diety worshipped by Hindus. The temple is so small in size that it can hardly accommodate one person and one has to crawl to get inside it. It is located on the hill adjoining the TV Tower. It is on a hillock on Gangtok-Nathula Road.

From here you can get a panoramic view of Gangtok town and the Raj Bhawan Complex and on a clear day you get a breathe taking view of Mt. Khangchendzonga. During the tourist season, a small cafeteria is opened for the convenience of the visitors. Just adjoining the Ganesh Tok is a pinetum garden containing pine trees. A walk on the footpath amongst the pine trees is refreshing.
Ganesh Tok, a temple situated on a ridge about seven km from Gangtok, has been declared out of bounds for visitors and about 25 houses have been evacuated following a series of landslides caused by heavy rains in the area over the last few days.

Ganesh Tok which offers a panoramic view of the Kanchenjunga, the world's third highest peak, is a popular tourist spot near Gangtok. The landslide at the base of the retaining wall at Ganesh Tok which occurred on July 12 is still active with boulders and sludge still tumbling down threatening houses in the area.