Warning: include(): http:// wrapper is disabled in the server configuration by allow_url_include=0 in /home/ganeshji/public_html/temples/dwarka_temple.html on line 35

Warning: include(http://www.ganesh.us/left.html): failed to open stream: no suitable wrapper could be found in /home/ganeshji/public_html/temples/dwarka_temple.html on line 35

Warning: include(): Failed opening 'http://www.ganesh.us/left.html' for inclusion (include_path='.:/usr/lib/php:/usr/local/lib/php') in /home/ganeshji/public_html/temples/dwarka_temple.html on line 35


Warning: include(): http:// wrapper is disabled in the server configuration by allow_url_include=0 in /home/ganeshji/public_html/temples/dwarka_temple.html on line 38

Warning: include(http://www.ganesh.us/banner.html): failed to open stream: no suitable wrapper could be found in /home/ganeshji/public_html/temples/dwarka_temple.html on line 38

Warning: include(): Failed opening 'http://www.ganesh.us/banner.html' for inclusion (include_path='.:/usr/lib/php:/usr/local/lib/php') in /home/ganeshji/public_html/temples/dwarka_temple.html on line 38


Warning: include(): http:// wrapper is disabled in the server configuration by allow_url_include=0 in /home/ganeshji/public_html/temples/dwarka_temple.html on line 39

Warning: include(http://www.ganesh.us/adg.html): failed to open stream: no suitable wrapper could be found in /home/ganeshji/public_html/temples/dwarka_temple.html on line 39

Warning: include(): Failed opening 'http://www.ganesh.us/adg.html' for inclusion (include_path='.:/usr/lib/php:/usr/local/lib/php') in /home/ganeshji/public_html/temples/dwarka_temple.html on line 39

Dwarka Temple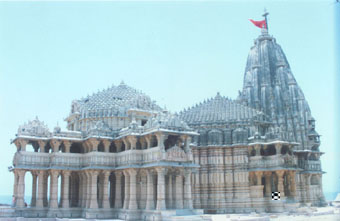 Dwarka, on the west coast of Gujarat on the shore of the Arabian Sea, features in most of the legends surrounding Lord Krishna. It is from here that the grown Lord Krishna is supposed to have ruled his kingdom. Dwarka is a significant pilgrimage site for the Hindus
Dwarka is sanctified as the place where Lord Vishnu slew the demon Shankhasura. The Puranas mention the 12 Jyotirlingas or columns of light representing Lord Shiva which manifested in different parts of the country. One of these is located in Dwarka and is known as the Nageshwar Mahadev. The Jagat Mandir or Nij Mandir forms the sanctum of the Dwarkadish temple and dates back to 2500 years. Jagat Mandir has its own hall of audience and a conical spire. The roof of the hall is supported by 60 columns and the main temple rises five storeys high. The spire rises to a height of 157 feet and is richly carved. One of the most popular temples in Dwarka is that of Rukmini, Krishna's wife, considered an incarnation of Goddess Lakshmi, the goddess of wealth and beauty. The Sharad Peetha, one of the four Maths established by Jagatguru Shankaracharya, is also situated here.

Location
Dwarka is situated in the extreme west of the Indian state of Gujarat in the Saurashtra peninsula on the Arabian Sea. It lies on 20°22' north latitude and 69°05' east longitude. The city is built on the right bank of Gamut creek.

History
Dwarka is an important pilgrimage center. It is steeped in legends, being associated with the life of Lord Krishna. In Puranic times, present-day Dwarka was known as Kushasthali or Dwaravati and enjoyed pride of place as the most important spot on the Saurashtra coast. It is said that Lord Krishna, after slaying Kansa, left his abode at Mathura and traveled with the entire Yadava community to the coast of Saurashtra where he founded a town and named it Swarnadwarika.

Vajranabh, Lord Krishna's successor and great grandson, is believed to have built the present temple Dwarkanath, also called Trilok Sundar. Many Hindus fervently believe that the temple was erected in one night by a supernatural agency, under Vajranabh's direction. Legend has it that when dying, Lord Krishna asked his devotees to leave Swarnadwarika so that the sea could engulf it. Until this day, Lord Krishna's city lies buried under the sea. Excavations have revealed that the sea swallowed five settlements, the present-day Dwarka being the sixth in line.