Ambaji Temple, Gujarat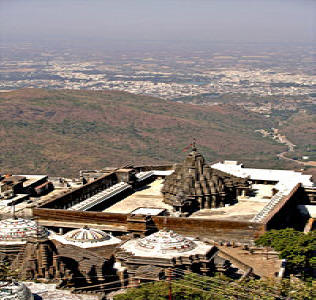 At a distance of 65 Kms from Palanpur and 45 Kms from Mt. Abu near Gujarat Rajasthan border the religious town of Ambaji is located. This town is famous for the Maa Ambaji temple, one of the richest and holiest temple in Gujarat attracting lakhs of pilgrims from Gujarat and neighbouring Rajasthan every year. The original seat of Ambaji Mata is on Gabbar Hilltop, which is 3 Kms away from Ambaji town. Ambaji Mata temple is one of the 51 shakti peeths where it is believed the heart of Goddess Parvati fell.
Ambaji Mata temple at Gabbar is very ancient, origin of which is lost in antiquity. It is believed that Goddess Amba was one of the deities of Pre-Aryan race, which Aryans absorbed in their pantheon. On the Gabbar Hill the footsteps of Goddess are imprinted. The imprint of Her chariot is also found here. It is believed that the tonsure ceremony of Lord Krishna also took place here. Ambaji temple has a golden yantra made jointly with the yantra of Nepal Shaktipeeth at Ujjain. There are 51 shlokas on the yantra.
Lakhs of devotees visit the temple every year especially on Purnima days culminating into a large mela on Bhadarvi Purnima. Goddess Ambaji Mata has been fulfilling wishes of her devotees for thousands of years.
Maa Ambaji Udankhatola at Gabbar Hill is operational since Sepemeber, 1998. The level difference the upper and lower stations is about 140 mts. Pilgrims by UDAN KHATOLA can reach the hill top in about 3 mins. whereas the other mode of climbing by foot takes about 45 mins. covering a steep winding path. This UDAN KHATOLA is a boon to the visiting pilgrims, old, infirm, children etc. to have a quick, safe and comfortable journey for the darshan of the Goddess Ambaji. Timings of UDAN KHATOLA is 8.30 A.M. to 5.30 P.M