Kashi Vishwanath Temple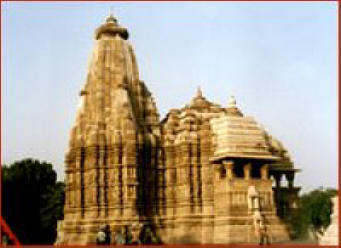 Click Here for Map of Varanasi
The oldest living city in the world, Varanasi is the ultimate destination of all Hindu pilgrims searching for moksha from the cycle of birth and re-birth. The word 'Kashi' originated from the word 'Kas' which means to shine. Kashi is mentioned repeatedly in the scriptures - the Brahmanas, Upanishads and the Puranas. It is the oldest center of learning and the University here is still widely respected for its Sanskrit, Philosophy, and Arts faculties. Hyuen Tsang, the Chinese traveler visited Varanasi in the 7th century.

Stepped in tradition and mythological legacy, Kashi is the 'original ground' created by Lord Shiva and Parvati. The Kashi Vishwanath Temple is dedicated to Lord Shiva. The temple was destroyed in the various invasions and was rebuilt in 1776 by Rani Ahilyabai of Indore. Hundreds and thousands of pilgrims flock to Varanasi to offer homage and wash away their sins.

Vishweshwara jyotirlinga has a very special and unique significance in the spiritual history of India. Deeply and intimately implanted in the Hindu mind, the Kashi Vishwanath Temple has been a living embodiment of our timeless cultural traditions and highest spiritual values. The Temple has been visited by all great saints- Adi Shankaracharya, Ramkrishna Paramhansa, Swami Vivekanand, Goswami Tulsidas, Maharshi Dayanand Saraswati, Gurunanak and several other spiritual personalities
Kashi Vishwanath Temple
As Puran says Kashi Vishwanath Baba is divided in to 3 parts of Trishul [1]Kedareshwar [2] Vishweshwar [3] MahaMritunjay.According to puran the person who stays at the end of his life time gets moksha.Kashi Vishwanath gives tarak mantra to get moksha. People who live in kashi get Aarth, Dharma, Karma, Moksha.The Temple is also known as the Golden Temple, it is dedicated to Lord Shiva, the presiding deity of the city.This is the holiest spot in the city.
More than the Ghats and even the Ganga, the Shivalinga installed in the temple remains the devotional focus of Varanasi. Varanasi is said to be the point at which the first jyotirlinga, the fiery pillar of light by which Shiva manifested his supremacy over other gods, broke through the earth's crust and flared towards the heavens.
The original temple was destroyed by aurangzeb who built a mosque in its place, but the traces of the old temple can be seen behind the mosque.The present temple was built by Maharani Ahilya Bai of Indore in the year 1776 and the gold plating on the towers of the temple was provided by Maharaja Ranjit Singh of Indore.
To the side of the temple is Gyan-Kupor('The well of Knowledge'). It is believed that the Shiva Lingam removed from the original temple was hidden in this well to protect it from Aurangazeb and it still lies there. Non-Hindus are not allowed to enter the temple.
New Vishwanath Temple
This temple is situated in the premises of the university and has 'Geeta' engraved in its marble walls.It's about a 30 minute walk from the gates of the university to the New Vishwanath Temple .This temple was planned by Pandit Malaviya and built by the wealthy Birla family of industrialists.
Pandit Malaviya wished to see Hinduism revived without its caste distinctions and prejudices - accordingly, unlike many temples in Varanasi, this temple is open to all, irrespective of caste or religion.
The interior has a Siva lingam and verses from Hindu scriptures inscribed on the walls. The temple is supposed to be a replica of the earlier Vishwanath Temple destroyed by Aurangazeb
Puja Timing at Kashi Vishwanath
| | | | | | |
| --- | --- | --- | --- | --- | --- |
| TEMPLE | MANGLA | BHOG | SANDHYA | SRINGAR | SHAYAN |
| Shri VishwanathJi | 3.00-4.00Am | 11.30-12.30 Noon | 7.00 -8.00Pm | 9.00 Pm | 11.00 Pm |
| Shri Annapurna Ji | 4.00 Am | 11.30 Noon | | 7.00 Pm | 10.00 Pm |
| Shri Kalbhairo Ji | 5.00 Am | 1.30 Noon | 8.00 Pm | | 12.00 Pm |
| Shri Sankatha Ji | 4.30/6.30Am | 2.30 Noon | | 11.00 Pm | 11.00 Pm |
| Shri Durga Ji (Durga Kund) | 5.00 Am | | 7.00 Am | | 11.00 Pm |
| Shri Sankat Mochan | 4.30 Am | 12.00 Noon | 3.00 Pm | 8.00 Pm | 10.30 Pm |
How to reach Kashi Vishwanath (Varanasi)
Varanasi is easily accessible from all parts of the country. Very well connected by road, rail and air, the City of. offers convenient and comfortable travelling options to and from other cities of India.
By Air
Indian Airlines flies to Babatpur airport which is 22 km. from Varanasi and 30 km. from Sarnath There is a. direct, daily flight connection between Varanasi and New Delhi. It also connects Varanasi to Delhi, Agra,. Khajuraho, Calcutta, Mumbai, Lucknow and Bhuvaneshwar. For travel reservations contact Indian Airlines.
By Train
Varanasi is an important and major rail junction. The city is served by trains from all metros and major cities across the country. New Delhi, mumbai, Calcutta, Chennai, Gwalior, Meerut, indore, Guwahati, Allahbad, Lucknow, Dehradun… the city has direct rail connections.

Varanasi Cantt Railway Station Enquiry number 135.

Some important trains from Varanasi station are
Kashi Vishwanath Express (Varanasi-Delhi)
Shramjivi Express (Patna- Varanasi-Delhi)
Farakka Express (MaldaTown-Varanasi-Bhiwani)
Saryu-Yamuna Express (Muzzafarpur-Varanasi-delhi)
Mahanagri Express (Varanasi-Mumbai)
Pawan Express (Varanasi-Mumbai)
Sabermati Express (Varanasi-Ahamedabad)
Ganga-Kaveri Express (Varanasi-Chennai)
Purva Express (Howrah-Varanasi-Delhi)
Himgiri Express (Jammu-Varanasi-Howrah)
Siyaldah Express (Varanasi-Jammu Tawi)
Marudhar Express (Varanasi / Agra /Jaipur)

From Mughal Sarai Station: (16 Km. from Varanasi) Train from Mughal Sarai Station are
Rajdhani Express (Howrah – Mughal Sarai- Delhi)
Toofan Express (Howrah- Mughal Sarai- Delhi)
North East Super Fast Express (Delhi –Mughal Sarai-Guwahati)
Magadh Express (Delhi- Mughal Sarai – Patna).
By Road
Varanasi, on (National Highway) NH2 from Calcutta to Delhi, NH7 to Kanya Kumari and NH29 to GoraKhpur is connected literally to the rest of the country by good motorable, all – weather roads. Some important road distances are: Agra 565 km., Allahabad 128 km., Bhopal 791 km., Bodhgaya 240 km., Kanpur 330 km., Khajuraho 405 km., Lucknow 286 km., patna 246 km., Sarnath 10 km., Lumbini (Napal) 386 km., Kushi Nagar 250 km. (via Gorkhpur), UPSRTC Bus Stand, Sher Shah Suri Marg, Golgadda Bus Stand.

Local Transport
Taxis: Private taxis are available from travel agencies, hotels, etc., auto rickshaws, cycle rickshaws and Tempos are also readily available.
Left Luggage Facility: Left luggage facility is available at both the Varanasi and Mughalsarai railway stations(24 Hours).
Accomodation in Varanasi (Kashi Vishwanath)
GOVT. ACCOMODATION

Railway Retiring Rooms,
varanasi Cantt.Railway Station, 1st Floor, Booking: Matron-in-charge.
Government Tourist Bunglow, Parade Kothi,Cantt.Tel:343413
Near Railway Station
GOVT. TOURISM OFFICE
U.P.Government Tourism Office
Parabe Kothi,cantt Tel:2208413,2208545
Open 10 am - 5 pm
Close: Sunday's and government Holidays.

U.P.Government Tourist Information Counter
Varanasi Cantt.Railway Station
Near Enquiry Office, Main Hall
Open daily 7 am - 8 pm

U.P. Government Tourist Office, Sarnath Tel:2386965

Government of India Tourist Office
158 The Mall, cantt. Tel:2343744
Open 10 am - 5 pm. closed Sunday and Government holidays

Bihar State Tourist Office
Englishiya market,Sher shah Suri Marg, Cantt Tel: 343821
Open daily 8 am - 8 pm