Warning: include(): http:// wrapper is disabled in the server configuration by allow_url_include=0 in /home/ganeshji/public_html/temples/Kamakhya_deve_temple.html on line 34

Warning: include(http://www.ganesh.us/left.html): failed to open stream: no suitable wrapper could be found in /home/ganeshji/public_html/temples/Kamakhya_deve_temple.html on line 34

Warning: include(): Failed opening 'http://www.ganesh.us/left.html' for inclusion (include_path='.:/usr/lib/php:/usr/local/lib/php') in /home/ganeshji/public_html/temples/Kamakhya_deve_temple.html on line 34


Warning: include(): http:// wrapper is disabled in the server configuration by allow_url_include=0 in /home/ganeshji/public_html/temples/Kamakhya_deve_temple.html on line 37

Warning: include(http://www.ganesh.us/banner.html): failed to open stream: no suitable wrapper could be found in /home/ganeshji/public_html/temples/Kamakhya_deve_temple.html on line 37

Warning: include(): Failed opening 'http://www.ganesh.us/banner.html' for inclusion (include_path='.:/usr/lib/php:/usr/local/lib/php') in /home/ganeshji/public_html/temples/Kamakhya_deve_temple.html on line 37


Warning: include(): http:// wrapper is disabled in the server configuration by allow_url_include=0 in /home/ganeshji/public_html/temples/Kamakhya_deve_temple.html on line 38

Warning: include(http://www.ganesh.us/adg.html): failed to open stream: no suitable wrapper could be found in /home/ganeshji/public_html/temples/Kamakhya_deve_temple.html on line 38

Warning: include(): Failed opening 'http://www.ganesh.us/adg.html' for inclusion (include_path='.:/usr/lib/php:/usr/local/lib/php') in /home/ganeshji/public_html/temples/Kamakhya_deve_temple.html on line 38

Kamakhya Devi Temple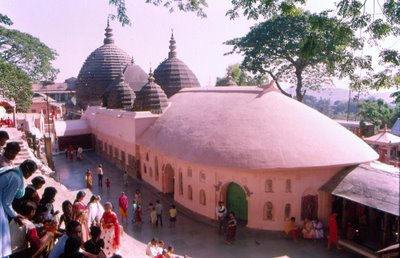 One of the best known temple of Guwahati is Kamakhya, situated on Nilachal Hill, eight km west of the city. This temple honour the Mother Goddess Kamakhya, the essence of female energy. It is one of the 108 Shakti Peethas of Goddess Durga. Legend has it that Kamakhya came into existence when Lord Shiva was carrying the corpse of his wife Sati, and her "yoni" (female genitalia) fell to the ground at the spot where the temple now stands. The temple is a natural cave with a spring. Down a flight of steps to the bowel of earth, is located a dark, mysterious chamber. Here, draped with a silk sari and covered with flowers, is kept the "matra yoni".

The Temple was rebuilt in 1665 after being destroyed by Muslim invaders, but its origins are much older than that. It was probably an ancient Khasi sacrificial site, sacrifices are still very much part of worshiping here. Group of devotees arrive each morning with goats to offer to Shakti.

Here, Durga Puja is celebrated annually during Navaratri in the month of September- October. It is a three day festival attracting several visitors. A unique festival observed here is the Ambuvaci (Ameti) fertility festival wherein it is believed that the Goddess (mother Earth) undergoes her menstrual period.