Warning: include(): http:// wrapper is disabled in the server configuration by allow_url_include=0 in /home/ganeshji/public_html/temples/Dakshineswar_Kali_Temple.html on line 35

Warning: include(http://www.ganesh.us/left.html): failed to open stream: no suitable wrapper could be found in /home/ganeshji/public_html/temples/Dakshineswar_Kali_Temple.html on line 35

Warning: include(): Failed opening 'http://www.ganesh.us/left.html' for inclusion (include_path='.:/usr/lib/php:/usr/local/lib/php') in /home/ganeshji/public_html/temples/Dakshineswar_Kali_Temple.html on line 35


Warning: include(): http:// wrapper is disabled in the server configuration by allow_url_include=0 in /home/ganeshji/public_html/temples/Dakshineswar_Kali_Temple.html on line 38

Warning: include(http://www.ganesh.us/banner.html): failed to open stream: no suitable wrapper could be found in /home/ganeshji/public_html/temples/Dakshineswar_Kali_Temple.html on line 38

Warning: include(): Failed opening 'http://www.ganesh.us/banner.html' for inclusion (include_path='.:/usr/lib/php:/usr/local/lib/php') in /home/ganeshji/public_html/temples/Dakshineswar_Kali_Temple.html on line 38


Warning: include(): http:// wrapper is disabled in the server configuration by allow_url_include=0 in /home/ganeshji/public_html/temples/Dakshineswar_Kali_Temple.html on line 39

Warning: include(http://www.ganesh.us/adg.html): failed to open stream: no suitable wrapper could be found in /home/ganeshji/public_html/temples/Dakshineswar_Kali_Temple.html on line 39

Warning: include(): Failed opening 'http://www.ganesh.us/adg.html' for inclusion (include_path='.:/usr/lib/php:/usr/local/lib/php') in /home/ganeshji/public_html/temples/Dakshineswar_Kali_Temple.html on line 39

Dakshineswar Kali Temple, Kolkata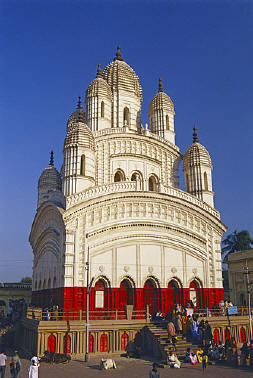 Dakshineswar Kali Temple is situated alongside the Vivekananda Bridge north of Calcutta, about 20 km. from BBD Bagh. It is famous for its association - with Ramkrishna who achieved spiritual vision here. This temple was built by Rani Rashmoni in 1847. The 12- spired temple with its enormous courtyard is surrounded by 12 other temples dedicated to Lord Shiva. It is a world famous place of pilgrimage and it was here that the famous religious thinker Rama Krishna Paramahamsa achieved his spiritual vision and preached the unity of all religions.

Ramakrishna served as temple's head priest. From the first days of his service in the shrine of the goddess Kali, he was filled with a rare form of love for the Goddess known in Hinduism as maha-bhava. Worshiping in front of the statue of Kali, Ramakrishna would be overcome with such ecstatic love for the deity that he would fall to the ground and immersed in spiritual trance, lose all consciousness of the external world. Ramakrishna fully realized the infinite and all-inclusive nature of the divine.

Dakshineswar Temple was founded on the 31st of May,1855;18 Jaistha 1262 b.s. The holy tithi was of Jagannath Deva Snanyatra. The Dakshineswar temple was founded on this auspicious day after facing many conflicts. The Rani Ma called by her people out of adoration, respect and love, installed Sri Jagadishwari Maa, the mother of the universe under the priesthood of Sri Rama Kumar Chattopadhaya .From young Gadadhar's coming to Dakshineshwar along with elder brother Rama Kumar to his transformation into the Avatar of the age, has become a legend now.