Amarnath
Amarnath is 145 km east of Srinagar in Kashmir and is considered to be one of the major Hindu Dhams. There is an ice Siva-linga here that changes size with the seasons, and also as the moon waxes and wanes it becomes bigger and smaller. On the full moon day the linga is about 6 ft high. Each year on the full moon day of July-August (Sravana) when the Siva-linga attains its maximum height there is a festival at this cave temple. It is said that Lord Siva first appeared on this day.
Amarnath is located in a glacial valley at 3,888 m and is 45 km from Pahalgam and 141 km from Srinagar. The cave is about 150 feet high and 90 feet long. Within the cave there are four or five ice formations that resemble the figures of different gods. The biggest figure is regarded as Siva (Amarnath). On the left side of the linga is an ice formation called Ganesh, and on the right side is one of Parvati and Bhairava.

The area is covered with snow from September to June. The cave opens only in July and August. This is the rainy season, so pilgrims have to brave the rain to get there. About 25,000 people make this pilgrimage each year. You can also hire ponies and dandies for the trip. It is very crowded during the annual Sravana festival. There is a yearly pilgrimage starting from Srinagar that is led by the Chhari Saheb, the holy scepter.

Amarnath Yatra

Amarnath Yatra is one of the most important holy pilgrimage held during July/ August. This is an annual event when thousands of Hindus from different corners of the Globe visit Amarnath caves. The pilgrims trek from Pahalgam to these caves and worship the great ice Lingam. Legend has it that Shiva recounted to Parvati the secret of creation in a cave in Amarnath. Unknown to them, a pair of mating doves eavesdropped on this conversation and having learned the secret, are reborn again and again, and have made the cave their eternal abode. Many pilgrims report seeing the doves-pair when they trek the arduous route to pay obeisance before the ice-lingam (the phallic symbol of Shiva). This is an event you certainly will talk about for the rest of your life.
The Legend of Amarnath
There is famous Rigvedic Verse that says "Ekam Sat " that is "There is one Being, the sages call Him by many names." The God (Parmeshwar) has three deities who carry on the world .This is Known as Holy Trinity. Brahma- the creator, Vishnu - the perpetuator of life and Shiva (Mahesh ) -the purifier and perpetuator of good and destroyer of evil. Rig Veda refer Shiva as Rudra as in its following verse .
"We Worship Tryambaka (Rudra) , Who spread Fragrance and Increases Nourishment, May He release me, like the cucumber from its stem, From Mortal Life, But not From Immorality."
(Rig Veda Mandal VII Sukta 59 and Mantra 12)

The Yajurveda describes Shiva as ascetic warrior Whose robe is of Deer Skin and He carries Trishul. According to the verse Satyam, Shivam, Sundaram, the life is described as having three facets Truth (Satyam), Good (Shivam) and the Beautiful (Sundaram). Shiva is a living God. The most Sacred and ancient books of India, the Rig Veda narrates His presence in the hymns. Vedic myths, rituals and even astronomy testifies to His existence from the dawn of time. The Mohenjodaro and Harappa findings confirm Shiva worship in the ancient India. According to the older scriptures, He has three places of His residence. One is Kailash Parvat another is Lohit Giri under which Brahamaputra flows and third is Muzwan Parvat.
Significance of Amarnath Cave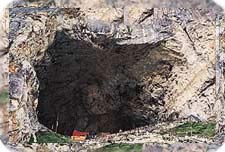 The Legend about the importance of Amarnath Cave is as follows :
This is the cave which was chosen by Bhole Shankar for narrating the secrets of immortality and creation of Universe to Maa Parvati ji. The story goes like this. Centuries ago Maa Parvati asked Shiv ji to let her know why and when He started wearing the beads of heads ( Mund Mala). Bhole Shankar replied when ever you are born I add one more head in my beads. Maa Parvati said ," My Lord, my body is destroyed every time and I die again and again, but you are Immortal. Please let me know the secret of this." Bhole Shankar replied that it is due to Amar Katha."

Maa Parvati insisted that she may be told that secret. For long Shiva ji continued postponing . Finally on consistent demand from Maa Parvati He made up his mind to tell the immortal secret. He started for lonely place where no living being could listen it. He choose Amarnath Cave. In preparation to that He left His Nandi ( The Bull which He used to ride ) at Pahalgam (Bail gaon). At Chandanwari He released Moon from his hairs (Jataon). At the banks of Lake Sheshnag He released the snakes . He decided to leave his Son Ganesha at Mahagunas Parvat (Mahaganesh Hill ). At Panjtarni, Shivji left the Five Elements behind (Earth , Water, Air , Fire and Sky) which make living being. He is the Lord of these elements. It is believed that as a symbol of sacrificing the earthly world , Shivaji and Maa Parvati had Tandav Dance. After leaving behind all these, Bhole Shankar enters the Holy Amarnath Cave along with Parvati Maa.

Lord Shiva takes his Samadhi on the Deer Skin and concentrate. To ensure that no living being is able to hear the immortal tale, He created rudra named Kalagni and ordered him to spread fire to eliminate every living thing in and around the Holy Cave . After this He started narrating the secret of immortality to Maa Parvati. But as a matter of chance one egg which was lying beneath the Deer skin remained protected. It is believed to be non living and more over it was protected by Shiva -Parvati Asan (Bed). The pair of pigeons which were born out of this egg became immortal having listened the secret of immortality (Amar Katha). Many pilgrims report seeing the pair of pigeons when they trek the arduous route to pay their obeisance before the Ice-Lingam (the phallic symbol of Shiva).
General Information :-
Best Time to Visit:

The Amarnath Yatra is organised every year by the Jammu & Kashmir government during the month of Shravan ( July and August); the dates however , vary every year looking at the weather conditions and according to Purnima (Raksha Bandhan) in the month of Shravan (Vikrama Samwat).

Yatra to Baba Amarnath Holy Cave for which one has to trek a height of about 14,500 ft is full of thrill and joy. The feeling of divine which is always beneath ones' heart , burst out and one realises 'Moksha' as one attends the Cave and perform the prayer before the Shivlinga. Surrounded by beautiful valleys, mountains, one will always feel His presence on the paradise of the earth, the memory of which hardly vanishes with time. A journey which will rediscover the nature and its love which is always inside but one has never felt.

Climate:

The climatic conditions are very uncertain . Rain or snowfall may take place at any time or place during the Yatra. It is to be particularly noted that abrupt changes in temperature might occur. Sunny weather may turn into rain / snow fall in a short time. The temperature may fall up to -5 ° C.

Main Languages:
Punjabi, Hindi and English
Population:
25,03,165
Temperature:
Summer - Max: 34 Min: 15
Winter - Max: 18 Min: 0
Route Map for Amarnath Yatra
1) JAMMU – PAHALGAM – HOLY CAVE. (Traditional Route)
Jammu to Pahalgam (315 km) – The distance between Jammu to Pahalgam can be covered by Taxi / Buses. These are available at Tourist Reception Centre, J & K Govt., Raghunath Bazaar only early in the morning. But one can also come to Srinagar by air and then move to Pahalgam by road
1. PAHALGAM :
It is 96 KM from Srinagar .This distance can be covered by car,bus or taxi. Pahalgam is known all over the world for its beauty. It is small town situated on the banks of Lidder River. It is surrounded by high mountains. All essentials can be bought here. Good Hotels are available for accommodation. However the arrangements for stay and Langar are also made by the Non Government Service Organisations.
2. CHANDANWARI:
The distance from Pahalgam to Chandanwari is 16km. The route is good .It can be covered by road transport also. Mini buses are also available from Pahalgam to reach Chandanwari. The trail runs along the Lidder River . The route is scenic. Food is available here. Pilgrims camp at Pahalgam or Chandanwari on the first night .
3. PISSU TOP :
As the Yatra proceed further from Chandanwari one climbs a height to reach Pissu Top. It is said that to be first to reach for darshan of Bhole Nath Shivshankar there was a war between Devtas and Rakshas . With the power of Shiv , devtas could kill the rakshas in such large number that the heap of their dead bodies has resulted in this high mountain.
4. SHESHNAG:
This second day's trek of 12 kms from Chandanwari is through Pissu Top and spectacular, primeval countryside, and reaches Sheshnag – a mountain which derives its name from its Seven Peaks, resembling the heads of the mythical snake. The Journey to Sheshnag follows steep inclines on the right bank of a cascading stream and wild scenery untouched by civilisation. The second night's camp at Sheshnag overlooks the deep blue waters of Sheshnag lake, and glaciers beyond it. There are legends of love and revenge too associated with Sheshnag, and at the camp these are narrated by campfires . The stillness of a pine scented Himalayan night increases your inner joy. Yatris can take bath and get their fatigue alleviated. It is beautiful and scenic.
5.PANCHTARNI:
From Sheshnag one has to climb steep height up across Mahagunas Pass at 4276 mtrs.(14000 ft) for 4.6 KM and then descending to the meadow lands of Panchtarni at a height of 3657 mtrs (12000 ft). The last camp enroute to the Holy Cave is made here on third day. Here one faces cold winds which cause the skin to crack . Hence cold cream / Vaseline are very useful for protection of skin. Some Yatris are also effected by deficiency of oxygen .Some may get the feeling of vomiting . So dry fruit like Allu Bukhara ,sour and sweet eatables like Lemon are useful to control these symptoms . The route to Mahagunas is full of rivulets , water falls , springs . Panchtarni is a very beautiful place in the feet of BHAIRAV MOUNT. Five Rivers flow here . It is said that the five rivers origanated from Lord Shiva's Hairs (Jataon). Pilgrims camp at Panchtarni on the 3rd night.
6. THE HOLY CAVE SHRI AMARNATH:
The Holy Cave of Shri Amarnath is only 6 kms from Panchtarni. As there is no place to stay hence the pilgrims start in the early hours of the morning after their stay at Panchtarni. On the way to The Holy Cave one comes across the Sangam of Amravati and Panchtarni. Some pilgrims take bath at Amravati near holy cave to become pious before going for Darshan. Near the cave is found white soil known as Bhasam. It is the most beloved soil of Shiv ji . The pilgrims apply this Holy soil to their body and then go for Shivlingam Darshan. There are two smaller Shivlings one of Maa Parvati and other of Shri Ganesh. It may be noted that after having early Darshan of the Shivlinga at Holy Cave one can return to Panchtarni well in time the same day . Some pilgrims camp at Panchtarni while others continue their journey and reach back Sheshnag by the same evening.
2) Jammu – Baltal – Holy cave (414km)
Jammu – Baltal (400km). –
The distance between Jammu and Baltal can be covered by Taxis / Buses available at Tourist Reception Centre, J & K / bus stand or one can come to Srinagar by air and then reach Baltal by road. The road route followed is :
JAMMU – Udhampur – Kud - Patnitop – Ramban – Banihal – KaziGund – Anantnag – Srinagar - Sonamarg – Baltal.
The journey from Jammu to Baltal which is about 400 kms. is full of beautiful Sites and one can experience of being in Heaven , a Paradise on earth. Passing through beautiful valleys, steeped mountains, one is sure of forgetting , oneself as a person ,for a while . A thrill, which is obviously there in every pilgrim gets enhanced while passing through this way owing to the Darshan of Holy Cave. In nutshell, a journey which can go down to your memory throughout the lifetime.
Baltal to Holy Cave
From Baltal Holy Cave is just 14 Kms.
This distance can be covered by foot / Ponies. However, Dandies are also available for handicapped and old aged pilgrims.
The width of the pebbled (kuchha) road is a bit narrow as compared to the Chandanwari-Holy Cave route, moreover , there are some steep rises & falls on the way , as compared to the Chandanwari route, but pilgrims can return back to base camp Baltal through this route only in one day.
Photos of Amarnath
| | |
| --- | --- |
| | |
| Shivlingama - Amarnath | Amarnath Yatra |

How to Reach :
Air: The nearest aerodrome is Srinagar. Srinagar is a beautiful valley having world famous sights to see, such as Dal Lake, Nagina Lake, Shankaracharya Temple, Mughal Gardens and what not. It is the most sought after tourist place. It is also known as "Paradise on earth". Srinagar is summer capital of Jammu & Kashmir. There are daily flights to Srinagar from Delhi and Jammu. On some week days flights also pickup passengers from Chandigarh and Amritsar .

Rail: Jammu is the nearest Railway Station . Jammu is winter Capital of Jammu & Kashmir. Jammu is a beautiful city and is also known as "CITY OF TEMPLES". One may visit old temples such as Raghunath Temple , Mahadev Mandir and other temples . It is well connected with all stations of India.The various trains coming to Jammu are listed here below.

Road: Jammu and Srinagar are also connected through road. Buses and Taxies are also available for this part of the journey .These can be hired on daily as well as full tour basis.
Do's and Dont's in Amarnath Yatra
Pilgrims are advised not to pay more than the specified rates for either services or their provisions. It is important to observe discipline on the trek and keep moving slowly and steadily. Adhere to the instructions issued by the Yatra Officer from time to time. Officials of the State Police, Health, Tourism, Food & Supplies and other concerned Departments are deployed on duty to help the pilgrims. You must also ensure that you are physically fit for the journey, and have yourself medically examined. Remember that you have to cross Mahagunus pass which is at an altitude of 14,000 feet above sea level.

Please ensure that ponies carrying your luggage and eatables remain with you at all times. Also ensure that the Ponywalla, labourer or Dandiwalla is properly registered and carries a token. You can get these alloted at fixed rates at the base camps. Do not overstrain on steep gradients: do not relax at points where there are warning notices; don't break traffic discipline or try to overtake other on difficult stretches. Aged, infirm, ailing and insufficiently clothed persons will not be permitted to proceed beyond Pahalgam.

DO'S
Please ensure that you are physically and mentally fit to perform the journey as the Yatra involves trekking at an altitude of 14, 000 ft. Have yourself medically examined and certified fit for the journey and forward the medical certificate to the registering authority designated for your area of residence.

Do carry sufficient heavy woolens including sweaters, (full as well as half sleaved), drawers woolen trousers, gloves, monkey caps etc. other items to be carried include wind cheater, light rain coat, a sleeping bag or blankets or a set of bedding items water proof tent, a torch with sufficient batteries, a walking stick with proper hand grip. Ladies are advised not go on the journey in Saris, instead pants or salwar suits with drawers should be used.

Do carry some eatable like biscuits, candy, milk powder, sugar, assorted dry fruits, honey and some tinned food with you. Also carry water bottle, plastic plate, tumbler, Spoons, etc.

Ration and firewood quota has been especially arranged for you at all stations enroute, against payment.

Make sure that the ponywalla, the labourer, the dandywalla is properly registered and carries a token. You can get these allotted at fixed rates by competent authority at the same camp.

Do ensure that ponies carrying your luggage and eatables etc. remain with you all time, if you let them ramain behind you are likely to be unnecessarily inconvenienced.

Do observe discipline on the trek and keep on moving slowly and steadily. Adhere to the instructions issued by the Yatra Officer from time to time. The officials of the Police, Tourism, Health, Food & Supplies and other Departments are there to help you to perform the journey comfortably.

Do carry sufficient money to pay your accommodation at Pehalgam and at other stations enroute to the Holy Cave and for meeting other personal requirements.

All medical facilities during the Yatra are free. However, do carry your personal medical kit also.

Carrying/use of alcohol enroute the Yatra is strictly prohibited.

DON'TS
1. Do not overstrain on steep gradients.
2. Do not relax at points where there are warning notices.
3. Do not break traffic discipline or try to overtake others in difficult stretches of the route.
4. Do not pay more than the prices/rates fixed for porters, ponies, dandies, rations firewood, accommodation etc. Note:-
Aged, infirm, ailing, and insufficiently clothed persons will not be permitted to proceed beyond Pehalgam. No Yatri will be allowed without a registration card.
Useful Tips for Yatra
The Yatra is organised by the Jammu & Kashmir Govt., in the month of Shravan, and commences mainly from Pahalgam on specified dates. In recent years the route from Baltal has also been thrown open for the pilgrims to approach the holy Cave.

Dress: Pilgrims are advised to carry sufficient wollens such as sweaters, drawers, wollen trousers, monkey cap etc. Other items could include wind cheaters, rain coat, sleeping bag or blankets, umbrella, waterproof boots/shoes, walking stick, torch etc. Ladies are advised not to go on the trek in saris, instead pants or Salwar suits with drawers should be used.

Medical Assistance: Medical posts manned by qualified doctors and nursing staff are established enroute to cater to the needs of the pilgrims, free of cost. However, pilgrims are advised to carry along any medicines specifically prescribed for them.

Provisions: Essential rations are available at fair price rates from the specially established Govt. Depots at Chandanwari, Sheshnag and Panchtami, Numerous wayside tea-shops and small restaurants are set up by private parties. However, pilgrims are advised to carry with them biscuits, toffees, tinned food etc. to cater to their immediate needs. Firewood or gas can be obtained at Chandanwari, Sheshnag (Wawajan), Panchtami and near the Cave.

Insurance: In view of the hazardous nature, pilgrims are advised to insure themselves before proceeding on the Yatra.

Accommodation: Good tented accommodation with allied facilities are set-up during the Yatra period. These are provided on the basis of payment of fixed rates

Registration: Registration of pilgrims are undertaken about a month ahead of the date fixed for commencement of Yatra.