Upasni Maharaj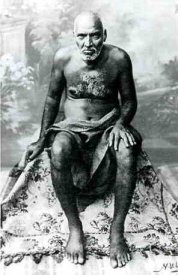 Upasni Maharaj, born Kashinath Govindrao Upasni (May 15, 1870 – December 24, 1941) was considered by his disciples to be a satguru. He lived in Sakori, India and is said to have received God-realization from Sai Baba of Shirdi. Sakori is located in Ahmednagar District of Maharashtra, about 15 kilometers (9 miles) from Shirdi.
Life
Upasni Maharaj was born a Hindu in a Brahmin family of priests in the village of Satana, India, in the district of Nasik on May 15, 1870. His father's name was Govind Shastri and his mother's, Rukhmini. After a career as an ayurvedic doctor and three marriages (all three died) he began to hear a singing voice that he could not explain. This troubling sound, along with various other difficulties, led him on a difficult quest that finally culminated in him meeting Sai Baba of Shirdi who is said to have given him God-realization at the age of 42. Sai Baba then claimed to be the one who was calling him inwardly. Upasni was very fiery and once said, "Unless you are ready to eat crap, how can you aspire for spirituality?" He died in Sakori, India on December 24, 1941, at the age of seventy one
Teachings
The principal teaching of Upasni Maharaj was that there are three rules that if observed sincerely lead to a life worth living.
Not to trouble anybody in the least.

To suffer for and be useful to others.

To remain contented in a state of Be as it may.
Master to Meher Baba
Upasni Maharaj was the principle teacher of Meher Baba. Baba lived in the Sakori ashram with Upasni for seven years, starting at the age of 20, from 1914 until 1921. According to Baba, Upasni Maharaj gave him divine knowledge after he received God-realization in 1913 at the age of nineteen from Hazrat Babajan. After an absence of nearly 20 years Meher Baba and Upasni Maharaj met for the last time on October 17, 1941 in Dahigaon, a small village in Niphad Taluka in the Nashik District of Maharashtra, just two months before Upasni's death