Swami Vivekananda (1963-1902)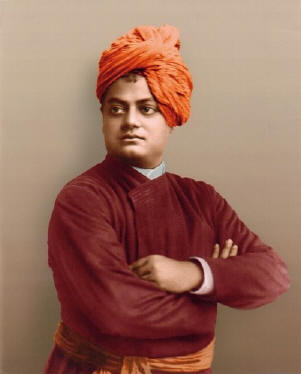 Swami Vivekananda (January 12, 1863 – July 4, 1902), whose pre-monastic name was Narendranath Dutta (Narendranath Dut-tta), was one of the most famous and influential spiritual leaders of the philosophies of Vedanta and Yoga. He was the the most eminent disciple of Ramakrishna Paramahamsa and the founder of Ramakrishna Math and Ramakrishna Mission. He is a major figure in the history of the Hindu reform movements.

While he is widely credited with having uplifted his own nation, India, he simultaneously introduced Yoga and Vedanta to America and England with his seminal lectures and private discourses on Vedanta philosophy. Vivekananda was the first known Hindu Sage to travel to the West, where he introduced Eastern thought at the World's Parliament of Religions, in connection with the World's Fair in Chicago, in 1893. Here, his first lecture, which started with the opening line "Sisters and Brothers of America," made the audience clap for two minutes in appreciation, for prior to this seminal speech, they were always used to the usual address of "Ladies and Gentlemen". It was this speech that catapulted him to fame by his wide audiences in Chicago and then later everywhere else in America, including far-flung places such as Memphis, Boston, San Francisco, New York, Los Angeles, and St. Louis.

A spiritual genius of commanding intellect and power, Vivekananda crammed immense labor and achievement into his short life, 1863-1902. Born in the Datta family of Calcutta, the youthful Vivekananda embraced the agnostic philosophies of the Western mind along with the worship of science.
At the same time, vehement in his desire to know the truth about God, he questioned people of holy reputation, asking them if they had seen God. He found such a person in Sri Ramakrishna, who became his master, allayed his doubts, gave him God vision, and transformed him into sage and prophet with authority to teach.
After Sri Ramakrishna's death, Vivekananda renounced the world and criss-crossed India as a wandering monk. His mounting compassion for India's people drove him to seek their material help from the West. Accepting an opportunity to represent Hinduism at Chicago's Parliament of Religions in 1893, Vivekananda won instant celebrity in America and a ready forum for his spiritual teaching.
For three years he spread the Vedanta philosophy and religion in America and England and then returned to India to found the Ramakrishna Math and Mission. Exhorting his nation to spiritual greatness, he wakened India to a new national consciousness. He died July 4, 1902, after a second, much shorter sojourn in the West. His lectures and writings have been gathered into nine volumes.