Sri Aurobindo (1872 - 1950)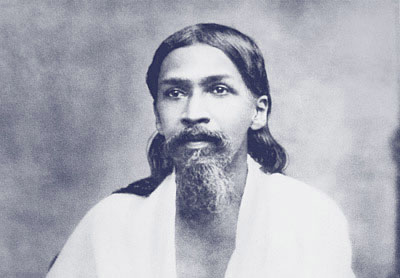 Every year on the 15th of August, which coincides with India's Independence Day, Hindus celebrate the birth anniversary of Rishi Aurobindo — the great Indian scholar, litterateur, philosopher, patriot, social reformer and visionary.

Sri Aurobindo was born in a Bengali family in Calcutta in 1872. His anglophile father Dr K D Ghose christened him Aurobindo Ackroyd Ghose at birth. When he was five years old, Aurobindo was admitted to the Loreto Convent School in Darjeeling.

At the age of seven, he was sent to St. Paul's School in London and then to King's College, Cambridge with a senior classical scholarship. Academically brilliant, he soon became proficient in English, Greek, Latin and French and became well acquainted with German, Italian and Spanish. He also qualified for the Indian Civil Service but was dismissed from the Service for not presenting himself at the riding examination upon completion of his two years of probation.

In 1893, at the age of 21, Aurobindo Ghose began working under the Maharaja of Baroda. He went on to become a part-time lecturer in French at Baroda College, and then a regular professor in English, and afterwards the Vice-Principal of the college. Here he studied Sanskrit, Indian history and several Indian languages.

The Patriot
In 1906, Aurobindo abandoned the position of the Principal of India's first National University in Calcutta, and plunged into active politics. He participated in India's struggle for freedom against the British, and soon became a prominent name with his patriotic editorials in Bande Mataram. For the Indians, he became, as said C R Das, "the poet of patriotism, the prophet of nationalism and a lover of humanity", and in the words of Netaji Subhas Chandra Bose, "a name to conjure with". But to the Viceroy of India Lord Minto, he was "the most dangerous man we…have to reckon with".

Aurobindo championed the Leftists' idealism and was a dauntless promoter of independence. He opened the purblind Indians' eyes towards the dawn of freedom and instigated them to rise from their slavish stupor. The British soon took him under detention and imprisoned him from 1908 to 1909. However, this one year of seclusion turned out to be a blessing in disguise not only for Sri Aurobindo but for mankind as well. It was in prison that he first realized man should aspire and emerge into a completely New Being and try and create a divine life upon earth.

A Divine Life
This vision led Aurobindo to undergo a profound spiritual transformation, and it is believed that after one such meditative trance in jail, he rose up to proclaim that India would gain her freedom at midnight on 15th August, 1947 — Aurobindo's birthday. Indeed, it rang true!

In 1910, obeying an inner call, he arrived at Pondichery, which was then in French India, and established what is now known as the Auroville Ashram. He left politics entirely and dedicated himself wholly to an inner awakening, which would spiritually elevate mankind forever.

He spent tireless years on the path of "Internal Yoga", i.e. to acquire spiritual upliftment of the mind, will, heart, life, body, the conscious as well as the subconscious and the superconscious parts of ourselves, to gain what he called the "Supramental Consciousness".

Henceforth, Sri Aurobindo tussled inwardly with the dark forces within man and raised secret spiritual battles to establish truth, peace and perennial joy. He believed that only this would enable man to approach the divine.

Aurobindo's Aim
His object was not to develop any religion or establish a new faith or an order but to attempt an inner self-development by which each human being can perceive the oneness in all and procure an elevated consciousness that will externalize the god-like attributes in man.

A Great Litterateur
Rishi Aurobindo left behind a substantial body of enlightening literature. His major works include The Life Divine, The Synthesis of Yoga, Essays on the Gita, Commentaries on the Isha Upanishad, Powers Within — all dealing with the intense knowledge that he had gained in the practice of Yoga. Many these appeared in his monthly philosophical publication, the Arya, which appeared regularly for 6 years until 1921.

His other books are The Foundations of Indian Culture, The Ideal of Human Unity, The Future Poetry, The Secret of the Veda, The Human Cycle. Among students of English literature, Aurobindo is mainly known for Savitri, a great epical work of 23,837 lines directing man towards the Supreme Being.

This great sage left his mortal body in 1950 at the age of 72. He left to the world a priceless heritage of spiritual glory that alone can free man from the troubles that beset it. His ultimate message to humanity, he summed up in these words:

"A divine life in a divine body is the formula of the ideal that we envisage."