Hindu Gods and Goddesses
Navagrahams
Sani Bhagavan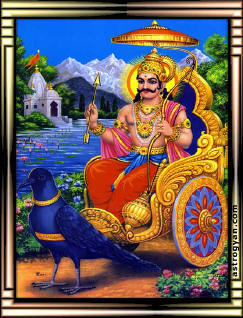 Thirunallaru Sthala varalaru, dosham and remedial measures Sani Bhagavan waiting to aspect Nala, noticed that he had not washed the back portion of his feet, while preparing for his prayers. Deciding this was the opportune time, he aspected Nala. Because of this, Nala lost his composure and lost his kingdom to Pudkaran in a game of dice and sent his children to their uncle's house. Nala departed to the forest with his wife Damayanti. Saneeswaran created trouble even there and made Nala desert his wife in the forest. The snake Karkotagan bit Nala, making him lose his stature (was made to look ugly). He took on the job of a charioteer with king Irudhupannan. Damayanti, in the meantime reached the kingdom of her father, and arranged a Swayamvara to locate Nala. Damyanti identified Nala, the charioteer as her husband. Thanks to a boon from Karkodagan, Nala regained his old form. In spite of being back with his wife, Nala feeling very disturbed, sought the solace of sage Bharadwaja and on his advice reached Thirunallar. He bathed in the Brahma Thirtham of the temple, and when he entered the sanctum sanctorum of the temple, Saneeswaran departed from him.
Saneeswaran resides in each Rasi for a period of 2 1/2 years. When Saneeswaran resides in the 12th, 1st and 2nd house, it is 7 1/2 Naatu Sani ; when in the 4th house, it is Arthashtama Sani; when in the 8th house, it is Ashtama Sani. During these periods, he troubles the native.
Problems from Govt., peers, wife, children, slowdown in business, loss of property, leprosy are caused by transit of Sani.
In a person's life, 7 1/2 Naatu Sani aspects thrice, the first called Mangu Sani, the second called Pongu Sani and the third called Marana Sani.
Saneeswaran is reputed to be both, a giver and destroyer. A person who prays to Saneeswaran will be blessed with not only riddance from the problems and worries faced, but a life that one desires.
The sthalam of Sani Bhagavan is Thirunallaru, which is located 3kms from Karaikal, enroute to Peralam. His wives are Neela Devi and Manga Devi. The presiding deities are Dharbaranyeswarar (Swaymbumurti) and his consort Bogamartha Poon Mulayal. He is the Lord of Maharam and Kumba Rasis and faces the West direction. The Adi Devatha is Yaman and the Prathyathi Devatha is Prajapathi. His colour is black; his vahana the crow; the grain associated with him is gingelley; the flower - vanni and black kuvalai; fabric - black cloth; gem - neelam (blue saphire); food - rice mixed with gingelley powder.
Other temples noted for Saniswara worhsip
Thiru Kollikaadu - Pongu Saniswaran gives darshan in this Agni sthalam
Saniswaran was very upset for he was being held responsible for all the woes of human beings. He prayed to Agneeswarar, Lord Siva at Thirukollikaadu after bathing in the Agni theertham. Lord Siva gave him darshan & praised him for being a just planet, meting out justice impartially based on the deeds of human beings. He further pleased Saneeswara by asking him to reside in the temple as Pongu Sani, showering his blessings on devotees.
This temple is located in Thirukollikadu near Thiruthuraipoondi in Thiruvarur district.
Presiding deities are Agneeswarar or Thirukollikadar, a slightly reddish lingam and Mirudupaadanayagi or Menthiruvadiamman or Panjinmelladiaal. (mirudu or men means soft in Tamil. Panju - cotton, Paadam is foot. i.e., goddess with feet as soft as cotton). Thirugnana Sambandar has sung the praise of Agneeswarar.
Agni Bhagavan is said to have worhsipped lord Siva here and hence the name Agneeswarar and the place came to be known as Agnipuri. Thirugnana Sambandar called the Lord Kollikaadar in his pure Tamil (agni, kolli-fire).
This ancient temple was built as a granite structure by the Chola kings. Inscriptions of Raja Raja Chola, Rajendra Chola and Rajadiraja Chola I are to be seen in the temple. There is no Raja gopuram.
Nalan who was rid of his Sani dosham at Tirunallaru, is said to have got back his wife, children, kingdom and all wealth after worshipping at this sthalam.
A Chola king with heavy Sani dosham finally got relief from his sufferings on worshipping the Sani Bhagavan at Kollikaadu.
King Harichandra is also said to have bathed at this sthalam and was finally relieved of his dohsam by the grace of Kollikadu Sani Bhagavan. The river where he bathed is still named after him.
The sannadhi for Sani Bhagavan is in the South west corner. The idol is seen with kalappai or plough (right) & crow (left) in his upper two arms, left hand by his side as ooru hastam and the right hand as abhaya hastam (Anugraha murti). Offer of Oomatham flower to Lord Sani here is said to cure mentally afflicted devotees. On performing pooja with Vanni leaf he will shower wealth and on offering Kondrai flower he will bless devotees with peace & unity in the family.
There are sannadhis in the main praharam for Murugar with Valli Deivayanai, Mahalakshmi, Saniswaran, Bairavar, navagrahams. The navagrahams are positioned differently here in an open formation all facing the Lord (|_|). Lord Muruga is seen with a bow and arrow instead of his vel. In niches on the outer wall are idols of Vinayagar, Dakshinamurthy, Lingodbavar, Brahma, Durgai. The sthala vriksham is Vanni.
Only on Saturdays, the temple remains open even in the afternoon.
Address:
Agamapraven S. Viswanatha Gurukkal
Pongu sani temple, Tirukollikadu
Thiruthangur
Thirunellikaval (P.O)
Tiruvarur (Dist) - 610 205