Hindu Gods and Goddesses
Navagrahams
Rahu Bhagavan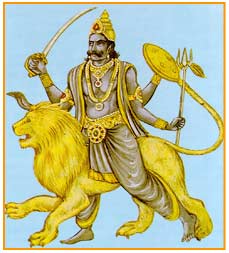 Thirunageswaram Sthala varalaru, dosham and remedial measures
The king of the nagas, Rahu prayed to Lord Siva and hence this place got the name Thirunageswaram. Here Rahu Bhagavan has manifested with both his consorts. At this sthala, the colour of milk changes from white to blue during Abhishekam. On 16.2.86, a snake had shed off its outer skin on Rahu Bhagavan, which is preserved and worshipped to date.
The abode of Uppiliappan, which is also hailed as 'South Tirupathi', is situated very close to this temple. Of the 127 temples located to the South of river Cauvery, this temple is amongst the most prominent.
Suryan, Vinayagar, Gautamar, Nalan, Parasarar, Pandavas, Vasishtar, Indran, Brahma, Bageerathan, Chandrasenan, Adiseshan, Kakkan Karkodagan, Sounagar, Nargunan have prayed and benefited at this sthala.
King Sambumali who had incurred the wrath of sage Kaalangiri, attained moksha after bathing in the temple tank and praying to the Lord and Ambal of this temple.
The devas and asuras churned the Paarkadal to obtain amirtham that would free them from death, keeping them alive for ever. When the amirtham emerged, Lord Vishnu in the guise of Mohini was distributing the amirtham only to the devas. He was worried that the evil deeds of the asuras will increase multifold if they consumed amirtham. Realising this, one of the asuras with the help of the asura guru Sukrachariyar, took the form of a deva and consumed the nectar. Suryan and Chandran who noticed this, complained to Lord Narayana. In anger, Lord Narayana hit the asura on the head with the spoon in his hand. The head was cut off and fell on the ground. But because the asura had consumed amirtham, his head and body continued to live. The body of a snake got attached to the head to become Rahu Bhagavan. Rahu prayed to Lord Vishnu (Narayana) and got the position of a Sayagraham. Rahu takes his revenge on Suryan and Chandran, whenever he gets a chance by devouring them. This is commonly called as eclipse.

Rahu is the source of plenty. Kalathra dosham, puthira dosham, communicable diseases, mental disorders, leprosy, fall in grace are caused by Rahu dosham
Praying to Rahu at this sthala helps rids a person from these factors and also saves the person from all poisonous life forms. Trips to holy places, Gnanamarkam are his beneficial aspects.
The sthalam of Rahu is Thirunageswaram, which is located 6 kms from Kumbakonam, enroute to Karaikal. The presiding deities are Naaganaadar and Girigujaambigai. He faces the South-West direction. The Adi Devatha is Durga and the Prathyathi Devatha is the snake. His colour is black, his vahana is blue lion; the grain associated with him is orid; the flower-mandarai; fabric-black cloth; gem- Komedagam; food-rice mixed with orid dhal powder.