Hindu Gods and Goddesses
Goddess Laxmi (Goddess of Wealth & Prosperity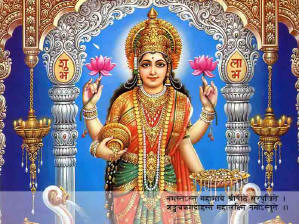 Consort of Vishnu
Goddess Lakshmi is the consort of Lord Vishnu (Lord of Protection Maintenance & Preservation). To go hand in hand with Lord Vishnu's act of maintenance and preservation, Goddesses Lakshmi is the possessor of every form of wealth. "Sri" is consdiered to be a pre-vedic deity associated with fertility, water and this deity was later merged with the vedic deity of beauty, Lakshmi.
The word Lakshmi could have its origin from the sanskrit terms
lakShyam meaning goal

lakShaNaM meaning aspect; characteristics

lakSha meaning Lakh, 100,000 in number, also sight

lakShaM meaning target
Thus Goddess Lakshmi is the source of wealth, fortune, prosperity, love and beauty. In the avatarams of Lord Vishnu, Lakshmi took various forms to accompany him - Sita with Rama, Rukmini with Krishna.
She is the possessor of great beauty and is depicted in standing as well as in the seated postures, always on a lotus. In her hands she holds two lotuses and wears a garland of lotus. She is often depicted clad in a red saree.
She is accomapnied by two (sometimes four) elephants on either side either garlanding her or spraying water from pitchers. She has four arms. The two upper arms are holding lotuses, while the lower arms are normally in abhaya and varada mudras. She has on her lap, a pot overflowing with gold and other riches. She is also depicted sometimes holding the amirtha kalasam (pot of ambrosia) and bilva fruit.
Ashta Lakshmi are her eight forms which are the commonly worshipped aspects. In each form, she bestows one form of wealth to her devotees.

Ashta Lakshmis
Aadi Lakshmi, Santhana Lakshmi, Gaja Lakshmi, Dhana Lakshmi, Dhaanya Lakshmi, Vijaya Lakshmi, Veera Lakshmi
Aiswarya Lakshmi

| | |
| --- | --- |
| <![if !vml]><![endif]> | <![if !vml]><![endif]> |

Temples exclusively for Lakshmi is not very common in the South. In all Vaishnavite temples, there is a separate shrine for Lakshmi (Thaayaar) apart from the idol seen in the main sanctum. Lakshmi resides in the heart of all Perumal idols, remaining inseparable. The Lakshmi temples in Maharashtra & the Chennai Ashta Lakshmi temple are shrines dedicated mainly to Goddess Lakshmi.
There are numerous poojas and festivals which are performed to invoke her blessings such as on Deepavali, Varalakshmi Viratham. During Navarathiri (9 nights) special prayers are offered to Sakthi, Lakshmi and Saraswathi - 3 nights for each goddess.
Symbolism
Four arms: The four arms represent the four directions and her willingness and availability to help and assist in all directions in space. They also signify the boons she bestows - the four ends of human life, dharma, wealth, pleasure and moksham.
Lotus: The lotus has an exclusive quality. Though the plant & flower dwells in water, water tends to roll of the surface. Lord Krishna says in his Bhagavad Gita, 'live life like a lotus that is untouched by water even when it dwells in it". Goddess Lakshmi is the deity most associated with the lotus to indicate that while we should enjoy the wealth & prosperity showered by her we should try not to be too attached to material wealth.
Amritakalasam: signifies that Goddess Lakshmi is the bestower of the immortality.
Other Namas (Names)
Haripriya - (Hari's beloved)
Padma - lotus dweller
Lokamata - mother to all in the world
Padmasini, Kamalakshi, Ambujam

Lakshmi Gayathri
om mahaa devyaicha vidhmahae
vishnu pathnyaicha dheemahi
tanno lakshmi prachodayaat
or
om mahaa lakshmyaicha vidhmahae
vishnu pathnyaicha dheemahi
tanno lakshmi prachodayaat

Sri Mahaalakshmi Sthuthi
Aadhilakshmi namasthaesthu parabrahma swaroopini |
yaso daehi dhanam daehi sarvakaamaamcha daehimae |
Santhaanalakshmi namasthaesthu puthrabowthra pradaayini |
puthraan daehi dhanam daehi sarvakaamaamcha daehimae |
Vidhyalakshmi namasthaesthu brahma vidhyaaswaroopini |
vidhyaan daehi kalaan daehi sarvakaamaamcha daehimae |
Dhanalakshmi namasthaesthu sarvadhaarithrya naasini |
dhanam daehi shriyam daehi sarvakaamaamcha daehimae |
Dhaanyalakshmi namasthaesthu sarvaabaranabooshithae |
dhaanyan daehi dhanam daehi sarvakaamaamcha daehimae |
Maedhaalakshmi namasthaesthu kalikalmasha naasini |
brahgnyaam daehi shriyam daehi sarvakaamaamcha daehimae |
Gajalakshmi namasthaesthu sarvadevaswaroopini |
asvamcha gokulam daehi sarvakaamaamcha daehimae |
Veeralakshmi namasthaesthu paraasakthiswaroopini |
veeryam daehi balam daehi sarvakaamaamcha daehimae |
Jeyalakshmi namasthaesthu sarvakaarya jeyapradhae |
jeyan daehi shubham daehi sarvakaamaamcha daehimae |
Bhaagyalakshmi namasthaesthu sowmaangalya vivarthini |
bhaagyam daehi shriyam daehi sarvakaamaamcha daehimae |
Keerthilakshmi namasthaesthu vishnu vashasthalasthithae |
keerthim daehi shriyan daehi sarvakaamaamcha daehimae |
Aarogyalakshmi namasthaesthu sarvaroga nivaarini |
aayur daehi shriyam daehi sarvakaamaamcha daehimae |

Siddhalakshmi namasthaesthu sarvasiddhi pradaayini |
siddhin daehi shriyan daehi sarvakaamaamcha daehimae |
Soundaryalakshmi namasthaesthu sarvaalangaara shobithae |
roopam daehi shriyam daehi sarvakaamaamcha daehimae |
Saamraajyalakshmi namasthaesthu bukthimukthi pradaayini |
moksham daehi shriyam daehi sarvakaamaamcha daehimae |